Leaders of the Economic Freedom Fighters (EFF) were apparently held hostage by disgruntled members of the party on Monday.
Disgruntled members of the EFF locked the gate of the party's regional offices at number 47 Victoria road in Sedibeng, Vereeniging. The members accuse the party of planting its preferred councillor candidates at the Sedibeng District Municipality.
Former EFF member Lufuno Gogoro (now a Patriotic Alliance member) shared a leaked letter from EFF secretary-general Godrich Gardee, addressing the issue. In the letter, Gardee says decisions were taken from the party's headquarters that: "the Proportional Representative list which was adopted by the National List Conference held at 30 May 2016 as gazetted with the IEC is closed, and there will never be any further entertainment of grievances about the list".
"The special CCT has satisfied itself that the commissars and fighters are capable and well capacitated to deal with the challenges of our communities in the municipalities they serve.
"All EFF councillor candidates who made it after 3rd August election and met the threshold in the municipalities should be sworn in as per directives from different municipality authorities.
"No grievance letters should be written to the headquarters about the list under any circumstances whatsoever or in any pretext."
---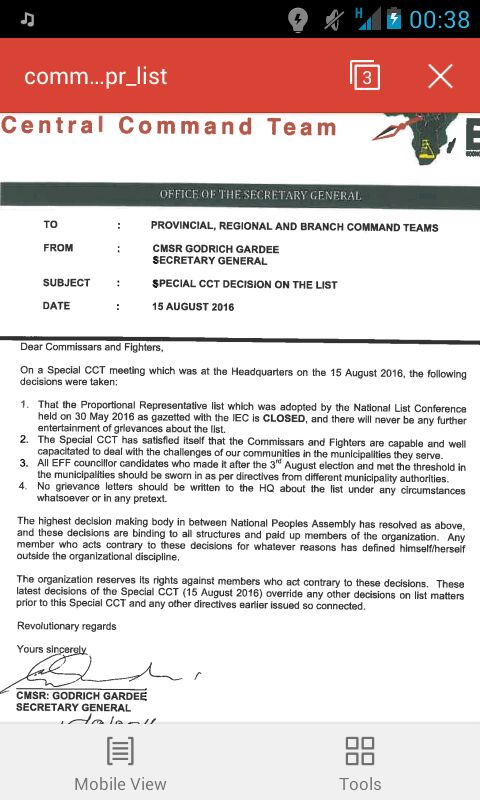 ---
Loxion News reports memes that some members of the party came as far at Rathanda and Limpopo, party leader Julius Malema's home province.
Meanwhile, the country's awaiting the EFF's announcement on Wednesday about who it has decided to go into coalition with between the DA and ANC. The party's spokesperson, Mbuyiseni Ndlozi, said the EFF was dealing with coalition negotiations in the necessarily "delicate" way.
There are many options. The president of the EFF put those on the table at the national results centre," Ndlozi said. "There is an option of abstaining and there is an option of a re-run. All those options are always on the table."
The removal of President Jacob Zuma was a non-negotiable condition if the ruling party wished to partner with it.
The EFF is seen as a kingmakers in five key metros, especially in Gauteng, where the ANC and the Democratic Alliance were unable to get 50% or more of the vote as horse-trading hots up before Friday deadline to form councils.
Ndlozi said the removal of Zuma was a long-standing position of the EFF and should not be mistaken as the party's opportunistic use of its influence in coalition negotiations.
"That's not a condition for negotiation, that's a demand of the EFF since Zuma broke the constitution," Ndlozi said.
– Additional reporting by Ngwako Modjadji and ANA