A drug laboratory with Cat estimated to be worth R1.5 million on the street had been uncovered at a complex in Terenure on the East Rand on Monday afternoon, Kempton Express reports.
Lieutenant Colonel Wilfred Kgasago, metro police spokesperson, said information received via the Crime Stop anonymous tip-off line resulted in law enforcers discovering the laboratory on Dunlin Street. Two foreign nationals were arrested and the drug as well as manufacturing apparatuses were confiscated.
Subsequent to receiving the tip-off and putting the suspected house under surveillance for some time, the police's Germiston organised crime unit obtained a search warrant. The officers brought on board the EMPD Community Liaison Unit (CLU), the EMPD Equestrian Unit, as well as the Benoni Flying Squad.
"The suspected house was raided just after 1pm whereupon a huge amount of the drug Cat was uncovered. The forensic investigators attended to the scene and seized the drugs and the manufacturing apparatuses," Kgasago said.
Two suspects, a 39-year-old Nigerian national and a 28-year-old Ghanaian national, were arrested.
In addition, two vehicles found in the yard suspected to be vehicles used in the distribution of the illicit substances were also seized.
The pair was detained at Norkem Park Police Station after being charged with manufacturing and dealing in an illicit substance.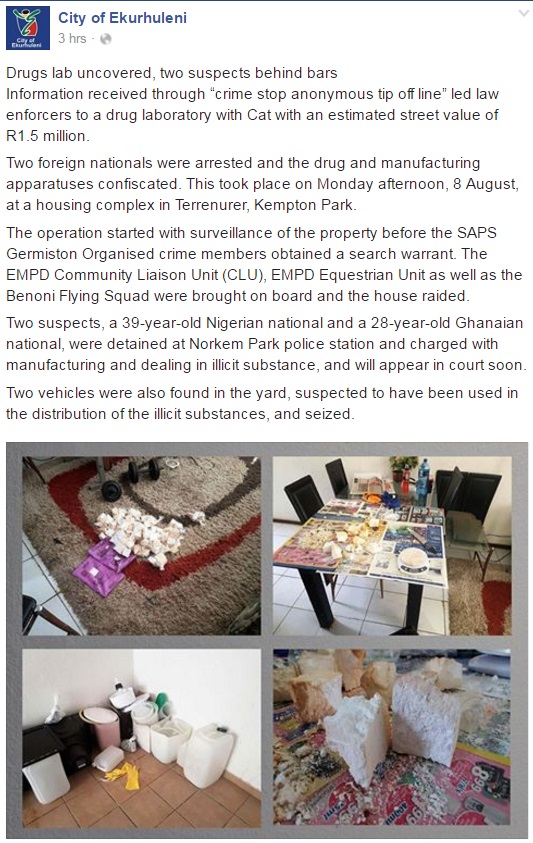 –Caxton News Service.