UPDATE: With 79% of the vote counted, the DA for the first time slipped below the critical 51% mark. It will be hoping to recover lost ground in the remaining 21% of ballots still to be counted.
In the Tshwane metro the race was also increasingly tight, with the ANC making up more ground, and the EFF also gaining:
DA: 43.68%
ANC: 42.22%
EFF: 10.19%
City of Johannesburg also saw a DA lead, but with more than half of the vote still to be tallied:
DA: 43.18%
ANC: 40.95%
EFF: 9.78%
EARLIER:
At 1.15pm, the IEC said it had counted more than 58% of the vote and the picture in a number of highly contested metros was becoming clearer.
The ANC was leading in the province of Gauteng as a whole.
In Tshwane, with only 44% of the vote counted, the DA's lead had dropped from 46% to 44.5% with the ANC increasing to 41.71%.
In Johannesburg the DA was leading with nearly 45% earlier in the day, but that had come down to 43.32%. Less than 30% of the vote was counted.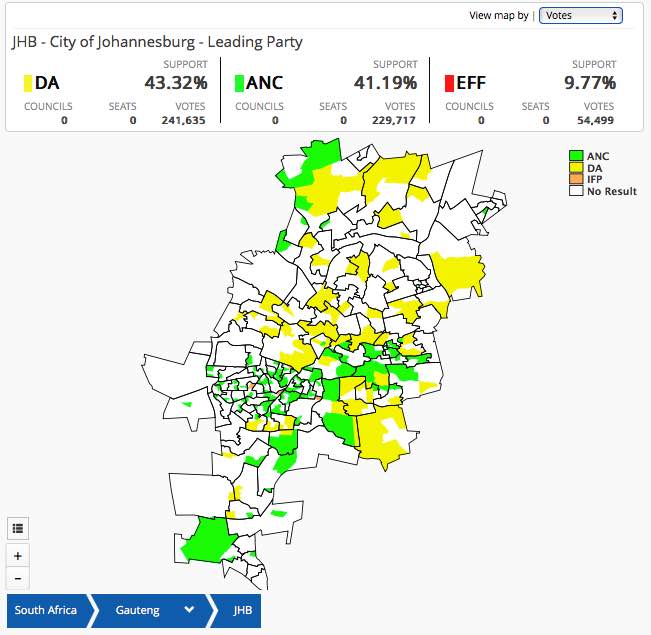 The DA had already retained the highly contested Midvaal municipality by nearly 60%.
In Ekurhuleni, the ANC was still leading, with 43% of the vote counted.
The other highly contested metro, Nelson Mandela Bay, has been going the way of the DA, with 66% of the vote counted. The DA may be feeling it's time to start celebrating.